Historical Renovations

Eaton General Construction provides timeless remodels to fit your home's style and era. With our in-house wood shop and our full time master craftsman, Bud Stuart, Eaton General is able to recreate period finishes. We will leave you with a seamless remodel that retains the look and feel of your homes original era.
"With tremendous amounts of talent and professionalism, Eaton General has helped make our old house a home…"Chris & Lili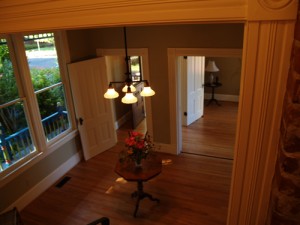 In the execution of historic renovation projects, Eaton General Construction understands the importance of maintaining a building's historic aesthetic flair while dealing with issues presented by the aging building. Eaton General carefully blends old world craftsmanship with present day technology to recreate millworks and built-ins unique to old homes.
Eaton General is able to restore a building's historically significant elements while meeting the demands of the contemporary home environment. We are able to breathe new life into an old home. Eaton General Construction specializes in, Sill and Structural Repairs, Window Restoration, Invisible Additions, Custom Trim, Porch Additions, Special Fixtures, Hand Crafted Millworks, Custom Built-Ins, And Much Much More…
At Eaton General Construction we take pride in preserving the original character, look and feel of your old historic home. Call Eaton General today to discuss your next renovation project 503.539.0811, or request a free estimate and fill out our online request form.