"A family tradition for over 400 years…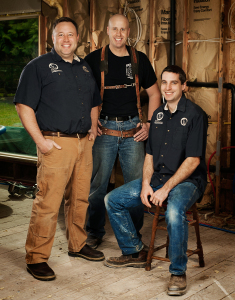 The Eatons have been providing quality craftsmanship as carpenters since 1620,  a family tradition for over 400 years. Francis Eaton,  a 'House Carpenter',  as described in the ships rolls of the Mayflower,  arrived in Plymouth Colony in 1620.  The first carpenter of the New World. Through the years the Eaton name has been synonymous with quality and craftsmanship.  And so generations of Eaton 'House Carpenters' lives on with Eaton General Construction.
Eaton General is a family owned and operated construction company. Our focus is on the old world traditions of hand quality craftsmanship. We are artisans of carpentry following in the footsteps of generations of Eaton 'House Carpenters'. Owner, Eric Eaton, established Eaton General Construction in 2003, after years of dedication in the carpentry trade. With a unique appreciation for every customer, uncompromising attention to detail, and a commitment to upholding the Eaton standard, Eric and his crew have left many a homeowner in awe.
At Eaton General you will not only find unbeatable quality that will last a lifetime, but you will find an appreciation for the trade that you won't find elsewhere. Read more about why to consider Eaton General Construction for your next home construction or remodeling project on our Testimonial Page, or give us a call at 503.539.0811.